iXtra LiFe
iXtra LiFe arbetar tillsammans med Optima precisionssåmaskin med att applicera flytande gödning under sådd.
Början på en god start
iXtra LiFe tillsammans med Optima precisionssåmaskin gör att utsädet sås på rätt plats och applicerar rätt mängd flytande gödning på samma gång. För att ge grödan en bra start placeras gödningen nära fröet. Elektroniken på båda maskinerna kommunicerar, så appliceringen startar och stannar vid varje individuell rad. Med striktare regler kring gödning är det nödvändigt med ett effektivt sätt att reducera mängden gödning varje år. Gödning i såraden är effektivt och ekonomiskt tack vare att gödningen placeras nära utsädet.
Fördelarna
100% ISOBUS-kompatibel.
Gödningen placerar nära såraden i en överfart och skapar en snabbare uppkomst.
Grödan växer och täcker fältet snabbare vilket gör att man minimerar ogräsuppkomst.
Spara kostnader på gödning och utsäde, eftersom det inte blir några överlapp.
Bättre användning av näringsämnen.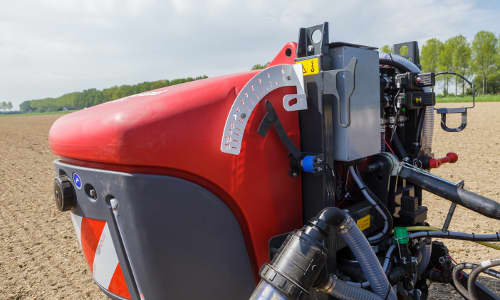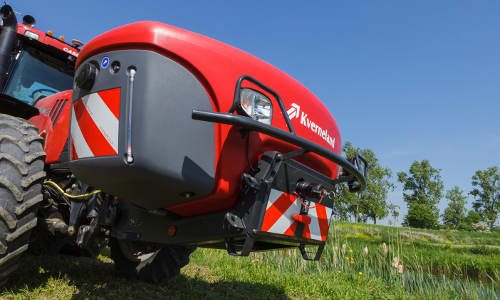 Volume and Weight distribution
With a 1300 litre maximum tank volume of liquid fertiliser (nominal volume of 1100 litre) the front tank is well balanced and gives an equal weight distribution with 2 x 65 litre rinsing water.
Parking and Hitching
Easy to hitch and park: hydraulic driven pump (no PTO shaft needed), plug & play ISOBUS cable and parking wheels for quick connection.
Control System
ISOBUS electronics: up to 18 individual sections combined with electric driven seeding rows on the seed drills and planters ensure exact row switching without overlap on both seeds and fertiliser. IsoMatch GEOCONTROL with GPS control row by row automatically for optimal driver comfort.
For more information, click on the "Control system" tab. 
Independent
Complete sprayer functionality "without boom". Meaning; including own electronics, pressure regulator, section valves and cleaning system.
Electrical level indicator
An electrical level indicator provides actual tank volume to a spraying computer as well as via the external display on the valve panel.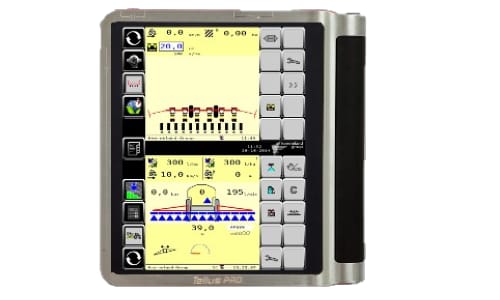 The iXtra LiFe front tank stands for precision farming. The electronics, ISOBUS, ensures there is no overlap by operating with section control for seed and fertiliser.
Efficient
Row fertilisation is a way to increase efficiency and save money due to a better placement of the fertiliser near the seeds. Because of the increased efficiency lower rates can be used, creating space in tight fertilisation plans for additional use of organic fertilisers. This contributes to increase soil organic matter content and improve soil fertility.
Smart
The iXtra LiFe nozzles follow the status of the ISOBUS planter when switching on or off sections and regulates the application rates based on driving speed. The iXtra LiFe can also work standalone, for example in combination with inner row cultivators or mechanical weeding.
Easy
IsoMatch GEOCONTROL manages your dosing rates and section status for both the liquid application and the planters seed rows automatically, so the driver can focus on the seeding process.
For more information, click on "Control system".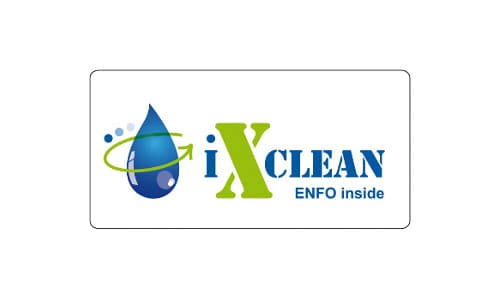 iXclean prevents that unintended residual enters the environment and ensures a clean working space.
The iXtra LiFe has an integrated agitation and cleaning system as standard: ENFO Inside.
This smart technology optimises filling and cleaning of the spray lines, even when the tank is still filled. This is an accurate application, there is no waste of liquid and you are saving water. These are important benefits for you and your environment.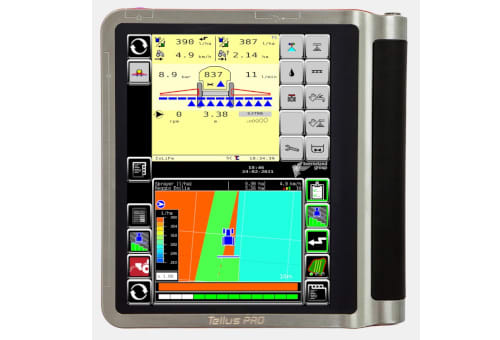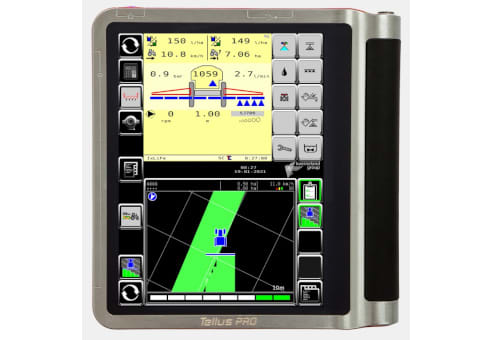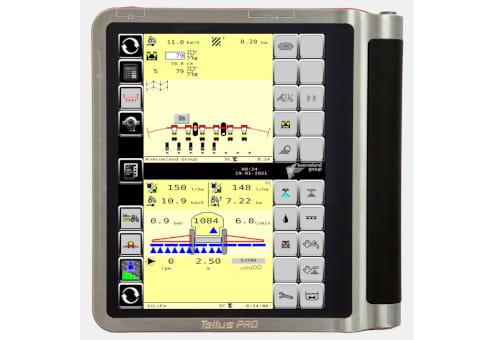 The iXtra LiFe is 100% ISOBUS compatible as standard, which means easy plug and play with the IsoMatch Tellus GO+ or PRO or any other AEF certified terminal. 
Precise product application (seeds and fertiliser) in a row or band
IsoMatch GEOCONTROL with GPS automatically switch on or off sections in exactly the right place, ensuring that there is no overlap in the headland or in any row that has already been covered. This is especially in cases of triangular fields and irregular shaped headlands. The automatic Section Control reduces overlap of seeding and spraying. Up to 18 individual sections, for combined work of the iXtra LiFe together with electric driven sowing units on the seed drills or planters, is Section Control that ensure exact row switching.
For the iXtra LiFe in combination with the arable machine. It is working as a Master Slave principle, the seeder sections are giving signal to sprayer sections to be switched on or off. This row fertilisation and seeding will increase efficiency, save cost and is a better use of nutrients.
Variable rate control
As any other Kverneland ISOBUS sprayer, the iXtra LiFe providing Variable Rate (VRA) functionality based on prescription maps or online sensors for variable applications.
Teknisk specifikation
Ladda ner broschyren
| | |
| --- | --- |
| Sektioner | 4-6-8-12-16-18 |
| Nominell tankkapacitet (itl) | 1,100 |
| Max tankkapacitet (lit) | 1,300 |
| Tomvikt (kg) | 221 |
| Kontrollpanel | Elektronisk (ISOBUS) |
Hitta återförsäljare