TrailedLine Classic Duo
Behållarkapacitet från 12m³ till 25m³ 
Kverneland Siloking Classic Duo med 2 turbo-skruvar tar upp arbetsbelastningen för större gårdar och gårdar med smala och låga ladugångar.
Med sina två högpresterande turboskruvar erbjuder Classic Duo enorm kapacitet, även med längre transportavstånd och stora besättningar. Tvåväxlad växellåda som standardutrustning och lämplig behållargeometri erbjuder smidig drift och optimala blandningsresultat.
De låga T-blandarna (14 m³ och 18 m³) är särskilt lämpliga för gårdar med låga gångar på grund av sin låga lasthöjd.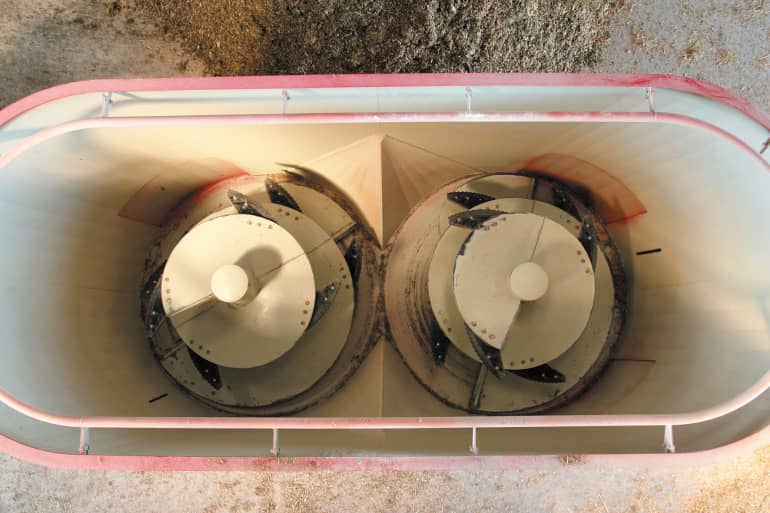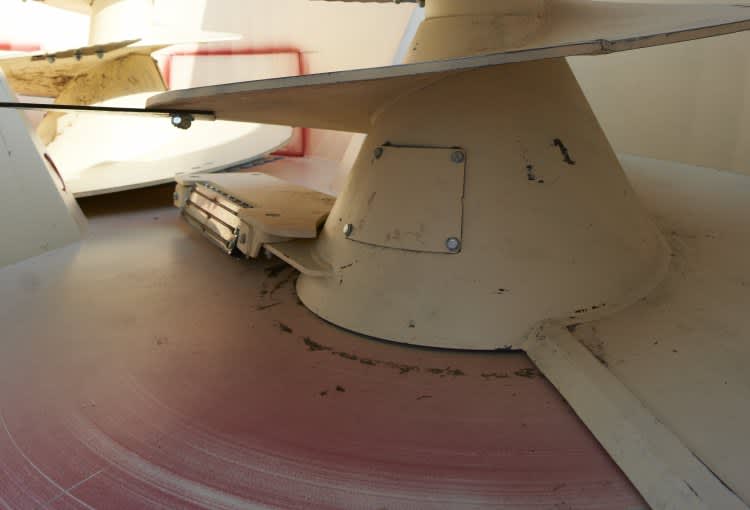 The Turbo Auger height is adjusted to the hopper height providing perfect auger-hopper ratio for accurate and quick mix.
Turbo Auger with slow revolutions provide a gentle mix with very low power consumption.
Adjustable Turbo Auger speed.
The conical hopper shape optimizes feed flow back from top to hopper bottom, providing fast processing and reduced power consumption.
Robust load cells ensure accurate weighing - only what is in the mixing hopper is weighed.
Multiple adjustable hard-coated XS knives.
For longer durability Siloking Kverneland has developed SILONOX lining as an option for the mixing augers and hopper walls, where most wearing occurs.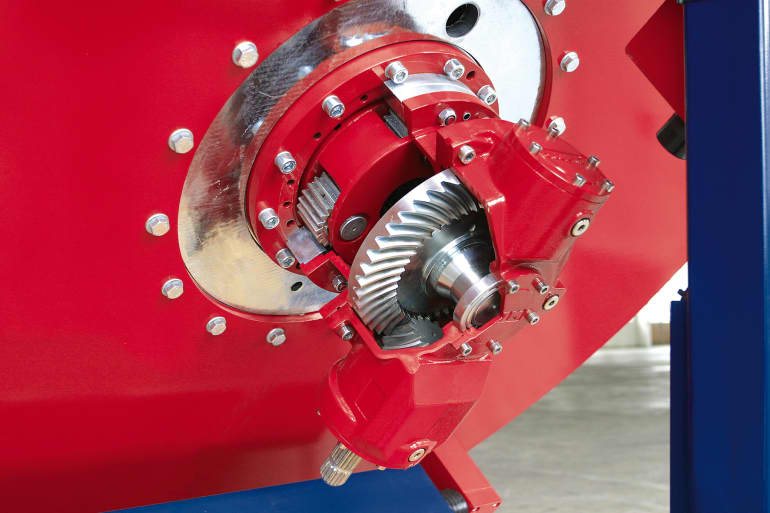 Standard with planetary gearbox with helical bevel gear drive, the heavy duty transmission is designed for efficiency and durability, even when operating at full load.
The relationship between gearbox and auger is carefully balanced for the optimum mixing result – high mix quality in the shortest possible time.
All elements of the transmission – auger connection, planetary gearbox, 2-speed gearbox & drive-line – match the requirements of excellent mix results with minimum down-time.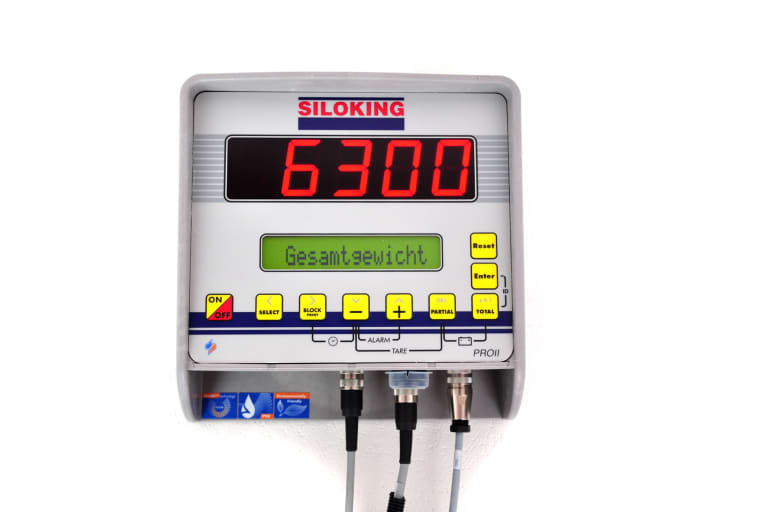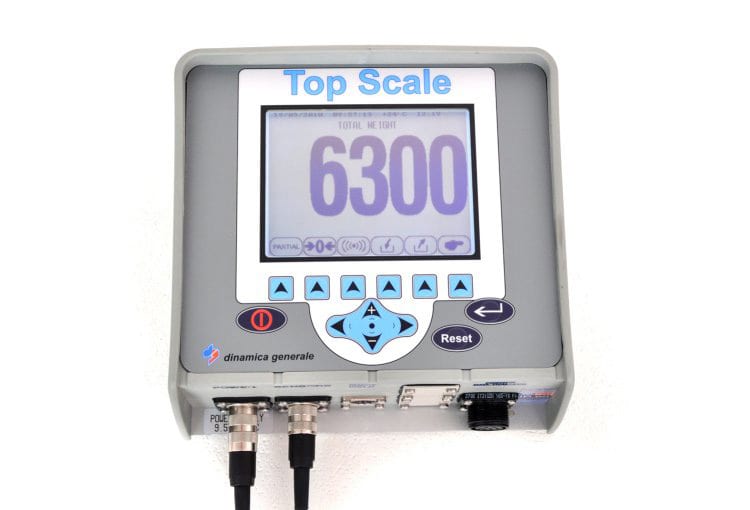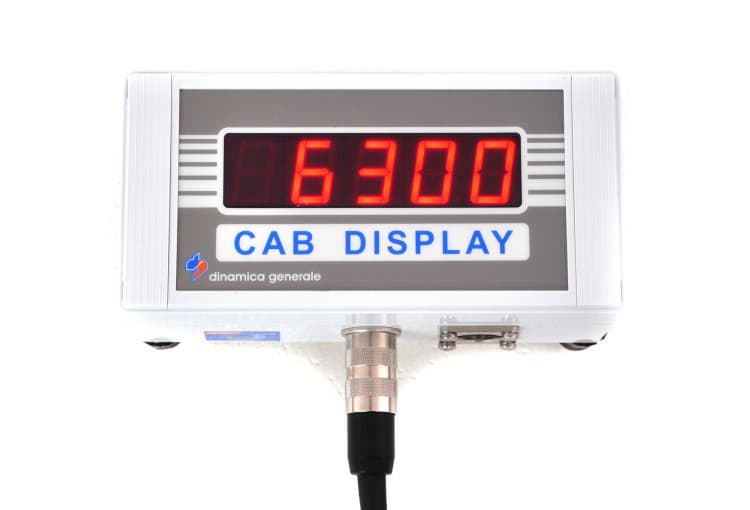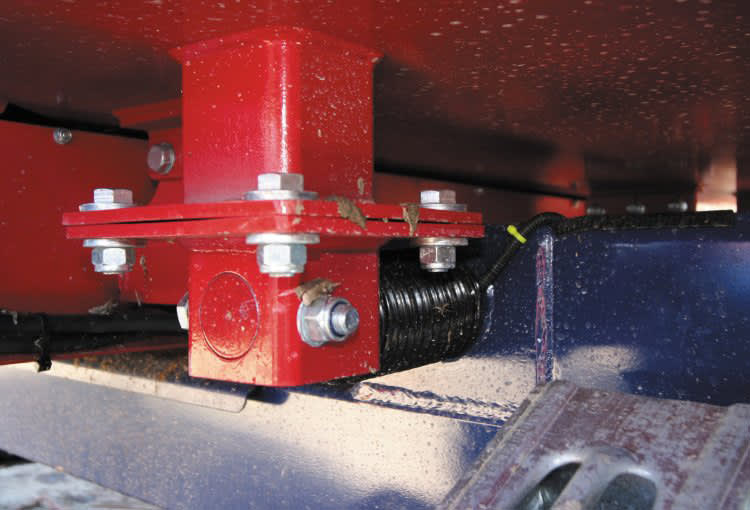 Precise control of ration components is needed when preparing feed rations.
Siloking Kverneland vertical mixers are fitted with a highly accurate weighing system as standard.
This means that exact quantities of materials can be loaded - essential for the preparation of accurate feed rations.
Featuring multiple weigh bars mounted between hopper and separate chassis, this quality system offers very accurate control of even small components during the loading of the machine.
Clearly visible some distance from the machine, the simple scale is standard with a fully programmable system as an option.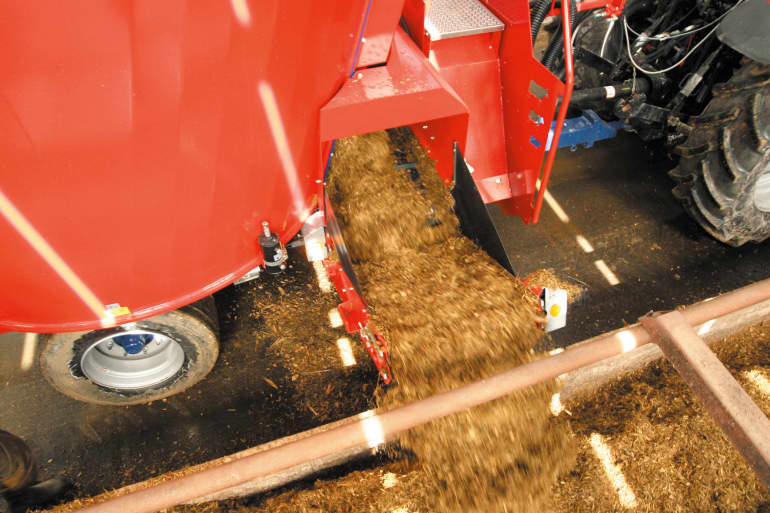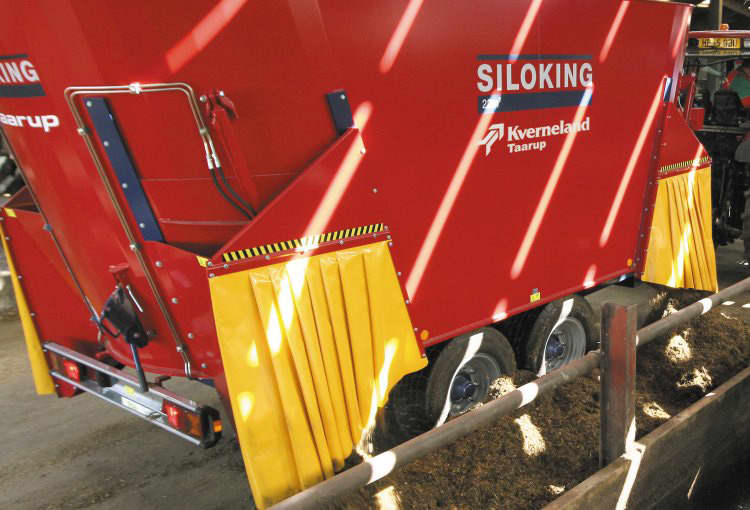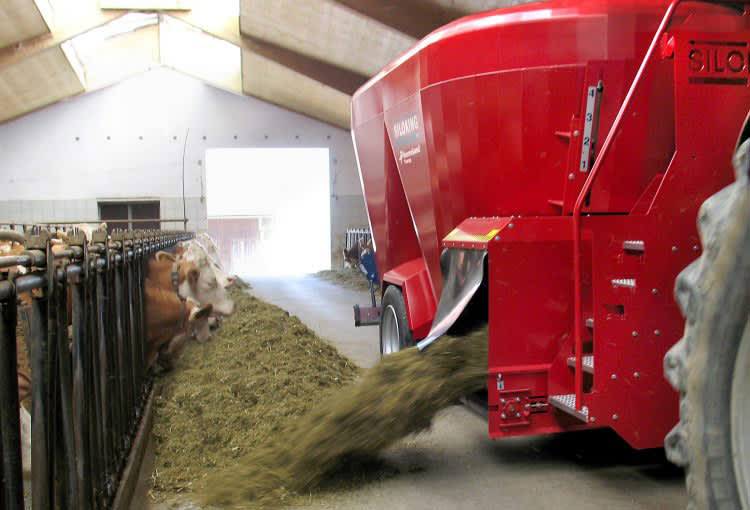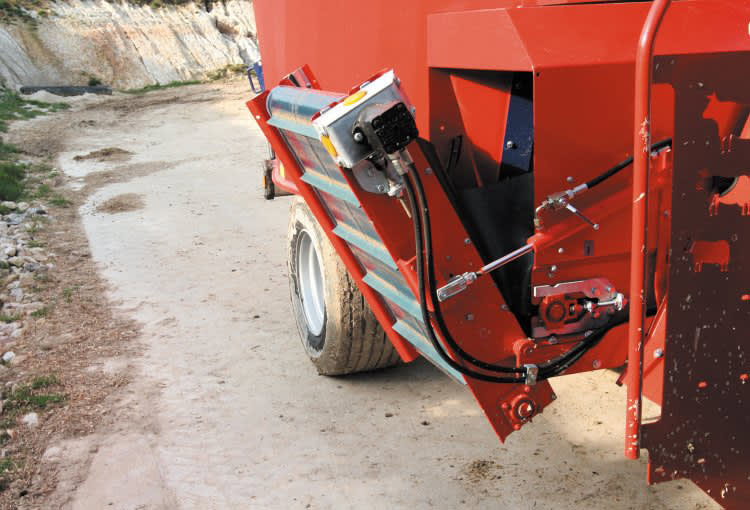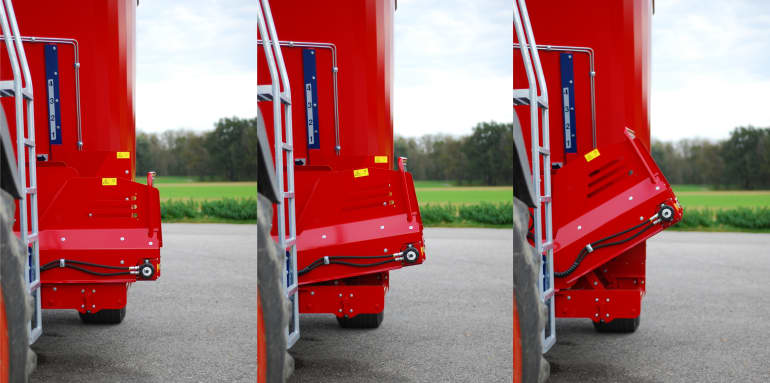 The vertical mixer range can be adapted to suit a wide variety of barns or feed troughs.
From feeding onto the floor or over high feed barriers, there is a discharge solution available.
If needed a conveyor option can be fitted to transport material away from the door.
Simple discharge doors - single or multiple per machine.
Cross conveyor for discharge to either side of the machine - can be positioned at the front or rear of the machine.
Hydraulically driven conveyors, fitted onto cross conveyor or direct onto discharge door, suitable for transporting material or into troughs.
TwinLift conveyor - available for Compact 10-14 and Duo 14T-26. Can disharge in any position.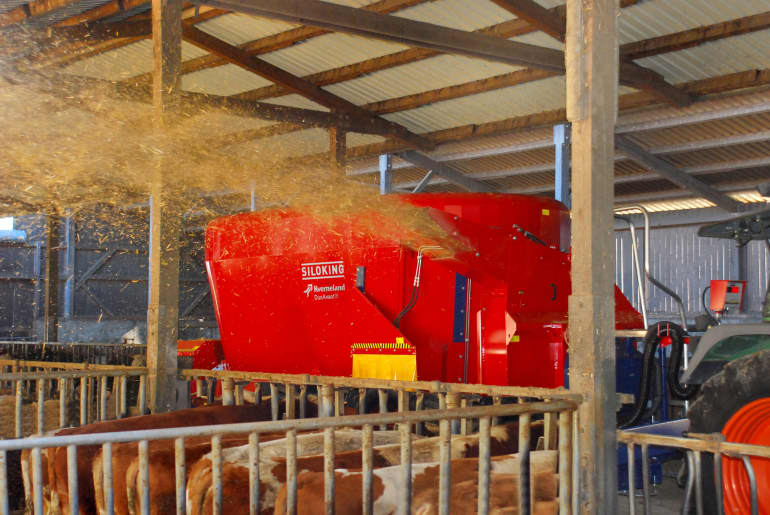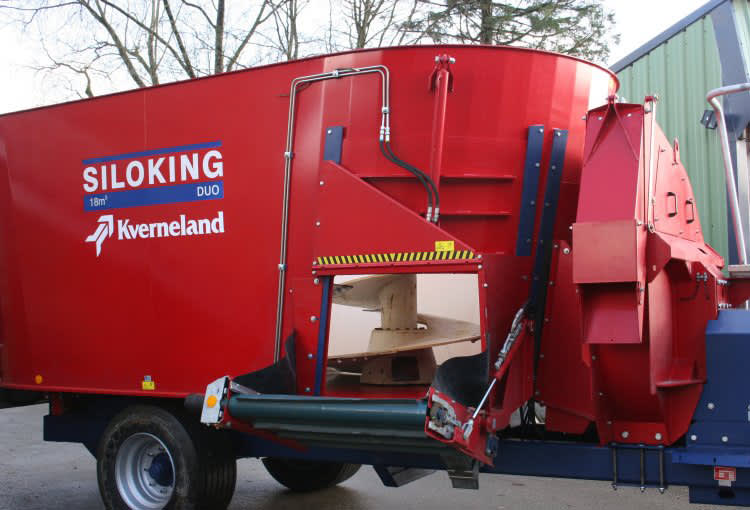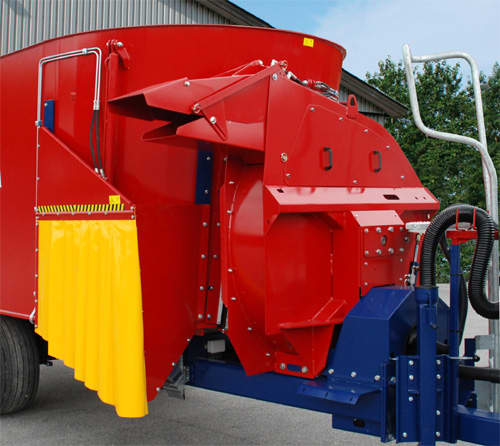 The straw blower option is available on models Compact 10-T–14m³, Duo 16-18m³, Duo Avant 14-20 and Duo New Generation.
The straw blower option offers a precise discharge of the straw inside the animal buildings.
The 1.55m diameter front mounted flywheel comes from the Kverneland 850 series Bale Choppers – known for its´ robust design and quality distribution of straw.
This system is mechanically driven from the tractor and located direct on the front of the machine, without the need for feed drums or conveyors.
Drive to the flywheel is independent of the drive to the augers, supporting each phase of the process – loading, cutting, mixing and discharge.
Straw is distributed by the side chute, offering straw blow up to 20m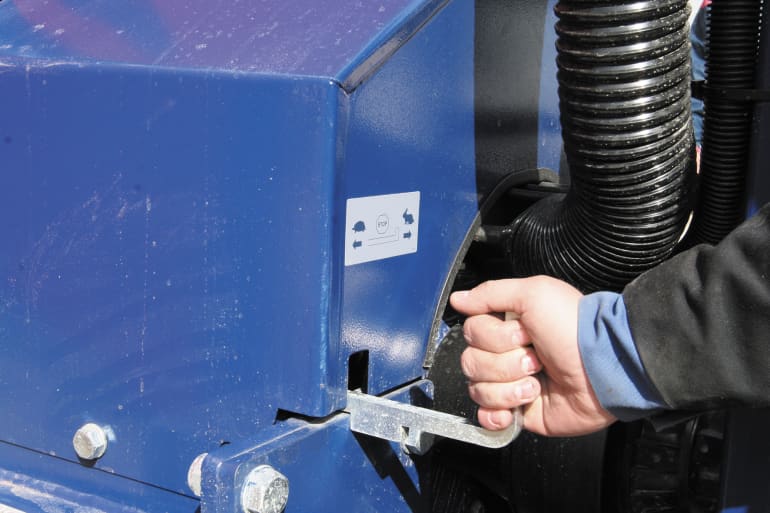 Standard with heavy-duty planetary gear drive to auger and 2-speed gearbox, allowing accurate control of auger speed during cutting, mixing and feed-out.
2-speed gearbox can be changed manually or via hydraulic control (option).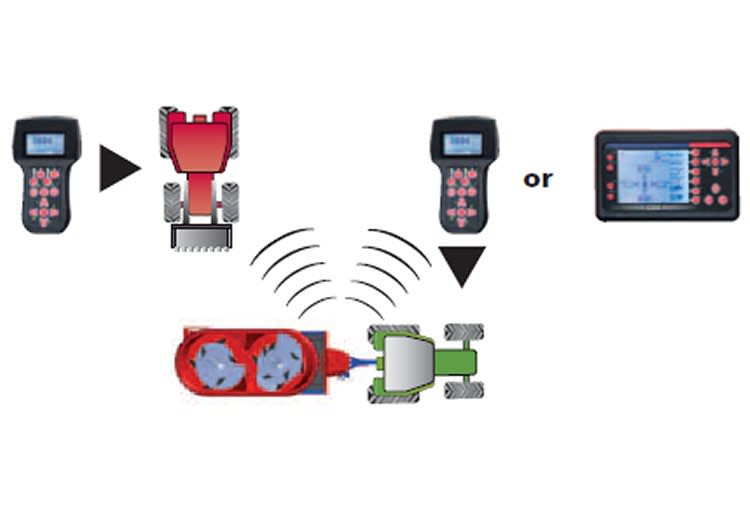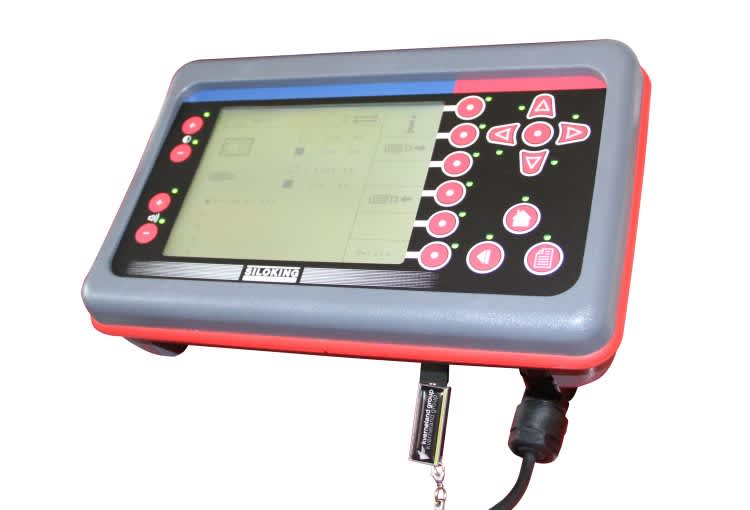 All information available at a glance.
Weighing system controlled from the tractor cabin.
Wireless - no disturbance of hydraulic functions.
All information is stored centrally in the machine box.
Weight information is always available - even in the silo.
Control your weighing system from the loading vehicle.
Feeding Management Software gives you full control over loading precision and feed consumption.
The SWT package includes adding weighing system.
The SWE Package combines programmable weighing system with electro-hydraulic control.
Teknisk specifikation
Ladda ner broschyren
| | | | | |
| --- | --- | --- | --- | --- |
| ModelL | kapacitet (m³) | Längd (m) | Bredd (m) | Höjd (m) |
| Duo 12 | 12 | 6.00 | 1.96 | 2.62 |
| Duo 13 | 13 | 6.20 | 2.06 | 2.64 |
| Duo 14 | 14 | 6.35 | 2.06 | 2.76 |
| Duo 14-T | 14 | 6.55 | 2.26 | 2.45 |
| Duo 16 | 16 | 6.55 | 2.26 | 2.70 |
| Duo 18 | 18 | 6.60 | 2.26 | 2.90 |
| Duo 18-T | 18 | 6.85 | 2.42 | 2.58 |
| Duo 20 | 20 | 6.90 | 2.42 | 2.87 |
| Duo 22 | 22 | 6.94 | 2.42 | 3.02 |
| Duo 25 | 25 | 7.35 | 2.55 | 3.22 |
Hitta återförsäljare