Kverneland 53100 MT Vario BX
Butterfly-kombination med BX-band, Quattrolink fjädring och hydraulisk justering av överlapp och arbetsbredd.
9.80 - 10.20m arbetsbredd.
SemiSwing stålfingrar
Höjdpunkter
ISOBUS - intuitiv joystick- eller terminalstyrning
Automatisk justering av bandhastigheten
Justerbar bandhöjd
Boost av banden för drift vid vändtegen
Autostop-funktion för minimerad bränsleförbrukning
Strängbältet som justeras automatiskt
Kverneland BX är anpassad för att maximera arbetskapacitet och att använda 53100s fulla kapacitet. Kverneland BX justerar automatiskt transportbandets hastighet efter arbetsbredd, för att få samma strängbredd, oavsett klippaggregatens position. I kombination med GEOMOW betyder det här maximal arbetskapacitet, utmärkt förarkomfort och exakt och jämn sträng.
Fördelarna
Alla fördelarna från standard 53100 MT, med ytterliggare egenskaper:
Automatisk justering av höjd och hastighet
Ökad bandhastighet vid vändtegsarbete
Autostop-funktion för minimerad bränslekonsumtion
Mångsidig 4-i-1-lösning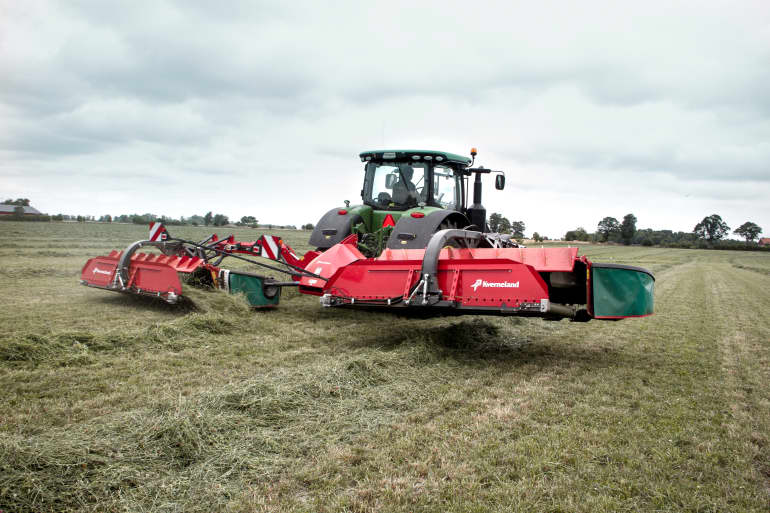 Same Uniform Swath Formation...
Kverneland BX automatically adjusts belt speed, whenever a change is needed. If mowing units are sideshifted to adjust overlap, belt speed immediately adjusts, to compensate for the change in throwing distance needed. When increasing overlap for mowing around corners, belt speed is lowered.
...Even When Using Just One Belt 
In addition Kverneland BX also detects when a belt or mowing unit is raised, and immediately compensates to ensure crop stays within the intended swath width. Belt speed of the working belt is automatically reduced, to avoid crop "flying over" the centre swath.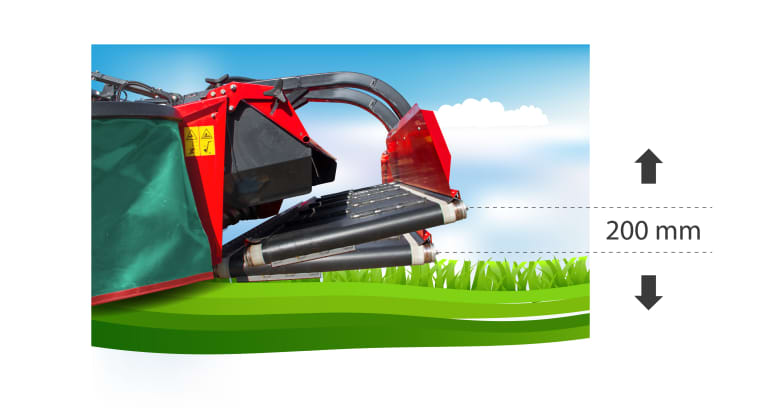 Shape the Swath As You Want
Working in heavy first cut crop, combined with a narrow pick-up width of the following machine, may cause challenges in getting the swath narrow enough. Kverneland BX offers the possibility of positioning the swath belt in different operating heights, to deliver the crop on top of the swath made by the front mower, to make a narrow and box shaped swath. Delivery height is set by lowering or raising the belt hydraulically on-the-go.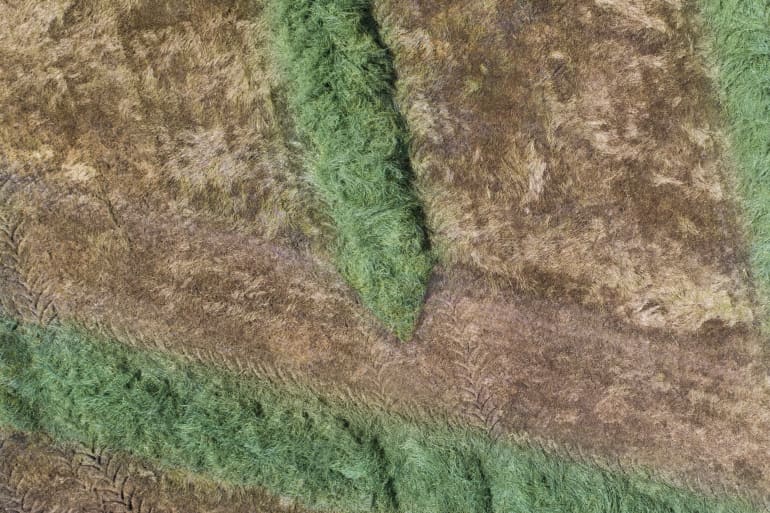 Clean and Tidy Headlands
When the mowing units are activated for headland lift, an integrated belt boost automatically speeds up, to empty the belts before they are raised, leaving a clean and tidy headland. Furthermore the AutoStop is activated once belts are raised, automatically stopping them until mowing units are lowered again, keeping fuel consumption low.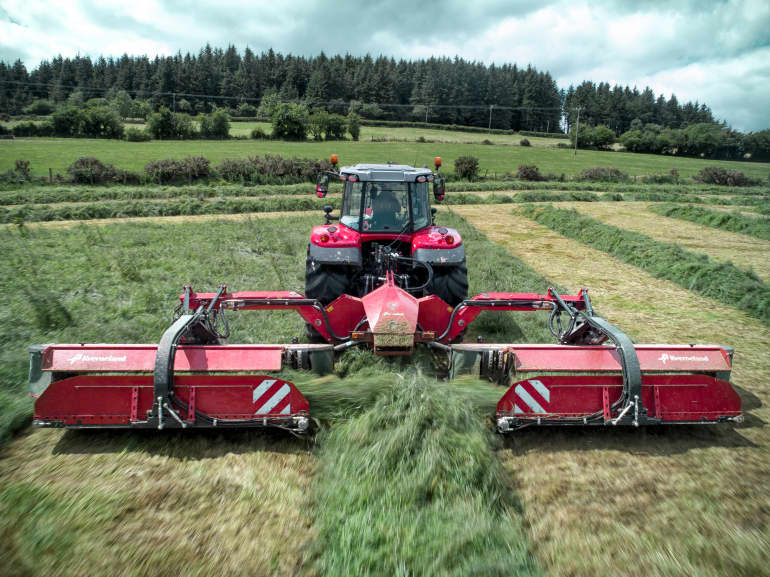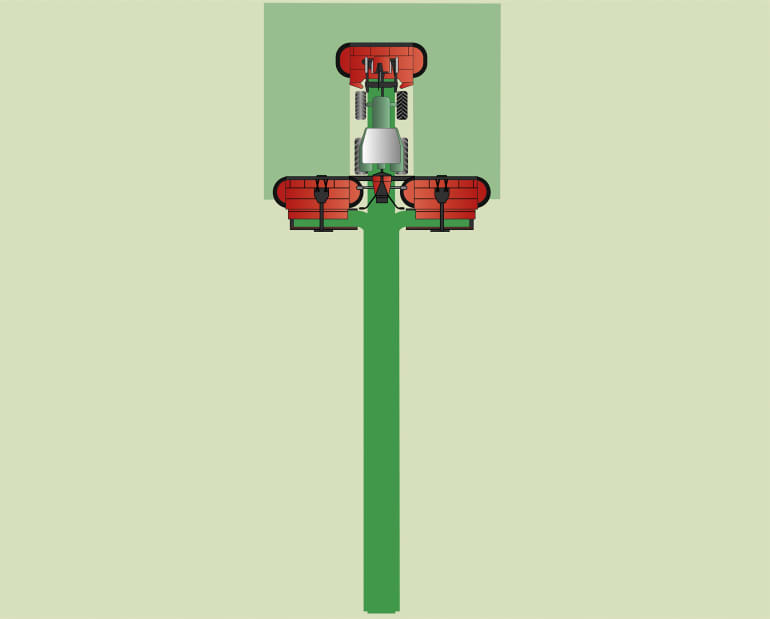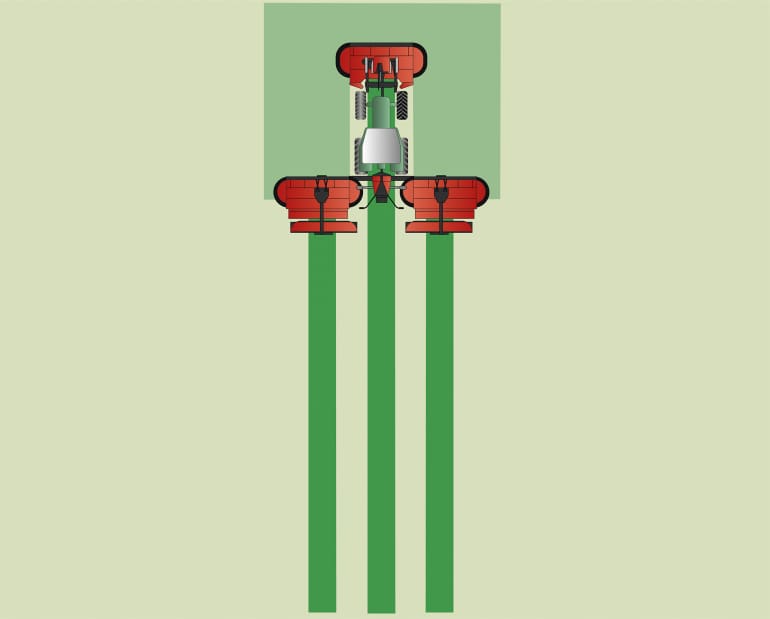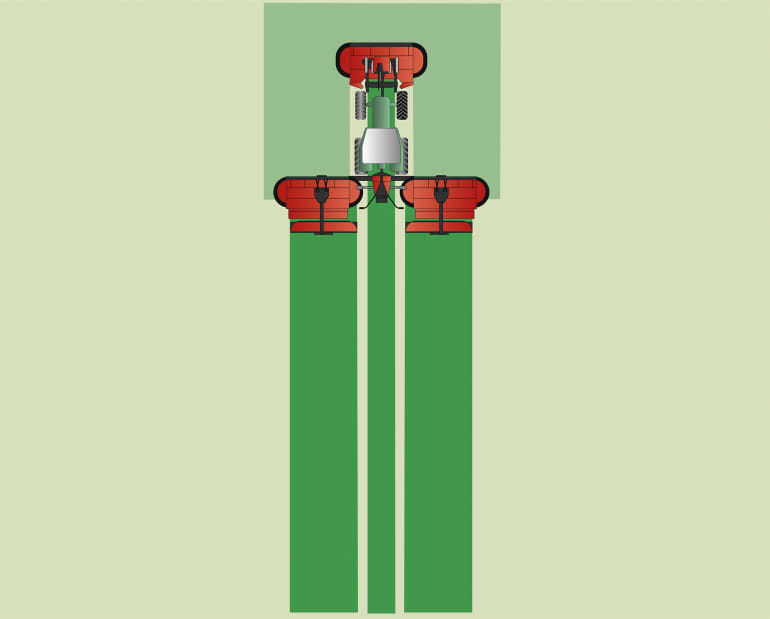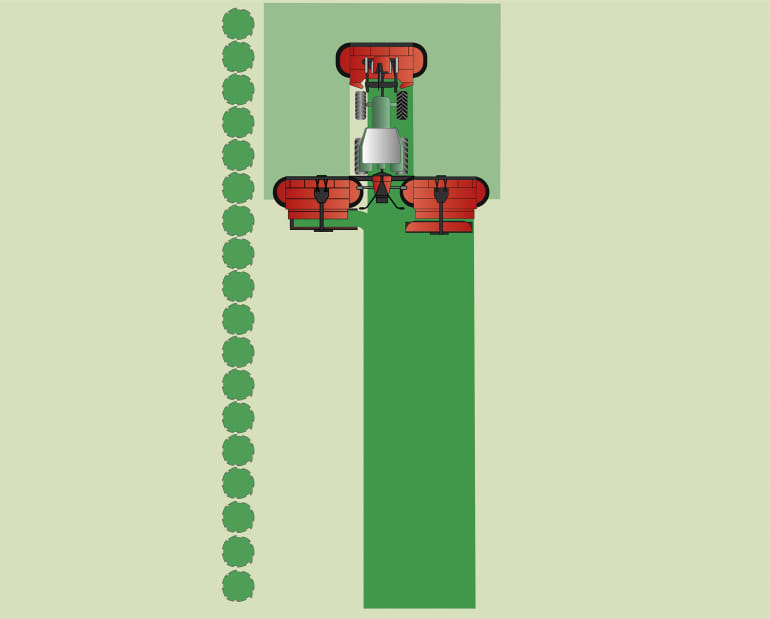 4-In-1 Solution
Versatility via four-in-one solution offered by the Kverneland 53100 BX, allowing one large swath, three single swaths, full width wide spreading, or using one belt only. The standard fitted swath plates are easily slided into position for the desired swath width. If conditions require wide spreading, the standard fitted FlipOver wide spreading vanes are activated in seconds.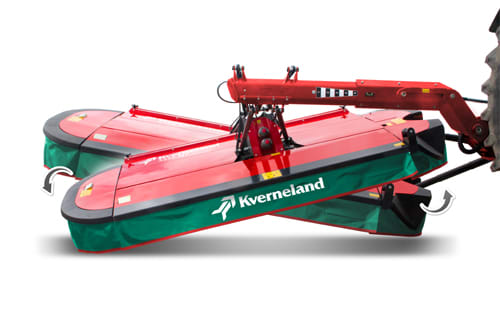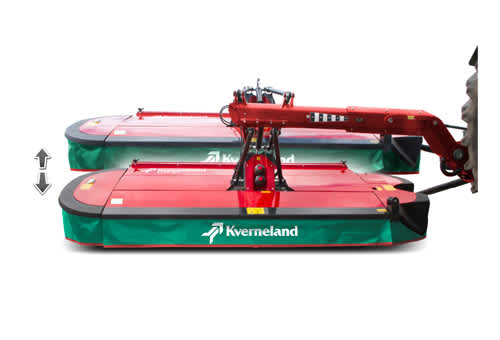 Racecar Technology Applied for Mower Conditioners
What makes the QuattroLink suspension unique? The mowing unit is pulled by four suspension arms fitted onto a fixed carrying arm that allows the mowing unit to float independently over the field, adjusting highly accurately and instantly to any changes in ground contours.
No Compromises on Flexibility
The mowing pattern is extremely flexible with a vertical working range of 700mm up and down and a transverse working range of 30°. The 4 arm suspension concept ensures constant ground pressure during working operations.
How You Will Benefit from QuattroLink
Like a race car you want better tracking, ability to go at faster speed and adjust instantly to changing field conditions when operating your mower conditioner. These are the main benefits you will experience when running the kverneland 3300 series and 53100 MT Vario. The four suspension arms provide the mowing unit with an exceptional flexibility in adapting instantly to demanding ground contours inviting for higher speed and more productivity.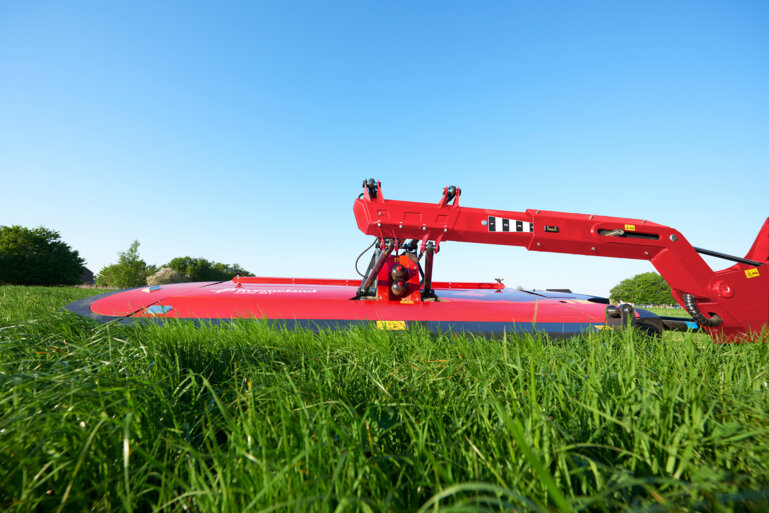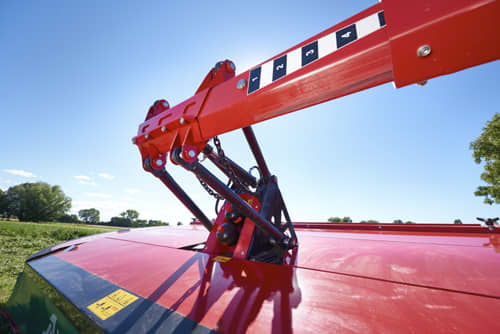 Hydraulic Adjustment of Overlap
Kverneland 3336 MT Vario and 53100 MT Vario are fitted with hydraulic SideShift integrated into the carrying arm allowing each mowing units to move 400mm. To easily compensate for changing field conditions, the adjustable overlap is designed as a telescopic arm, directly into the suspension.
Ground Pressure Remains Constant
During mowing operation the carrying arm always remains even to the ground, giving the mowing unit the freedom to instantly compensate and float across uneven ground contours. The true benefit of the suspension concept is that even though overlap is changed, the chosen ground pressure remains the same.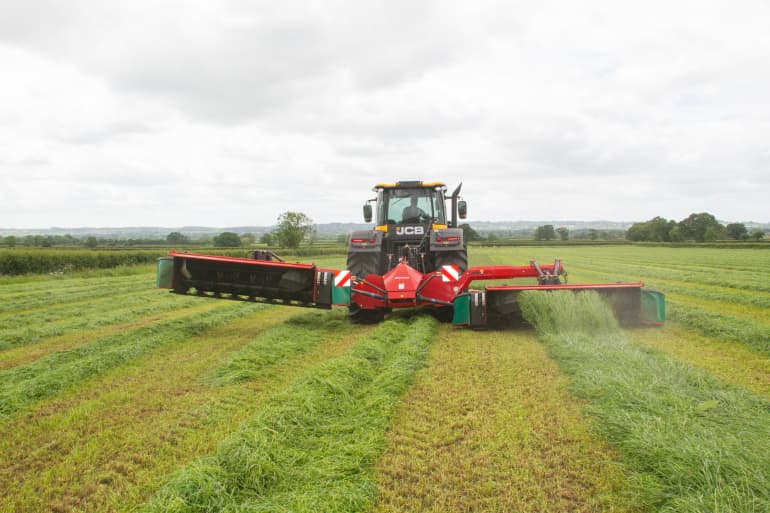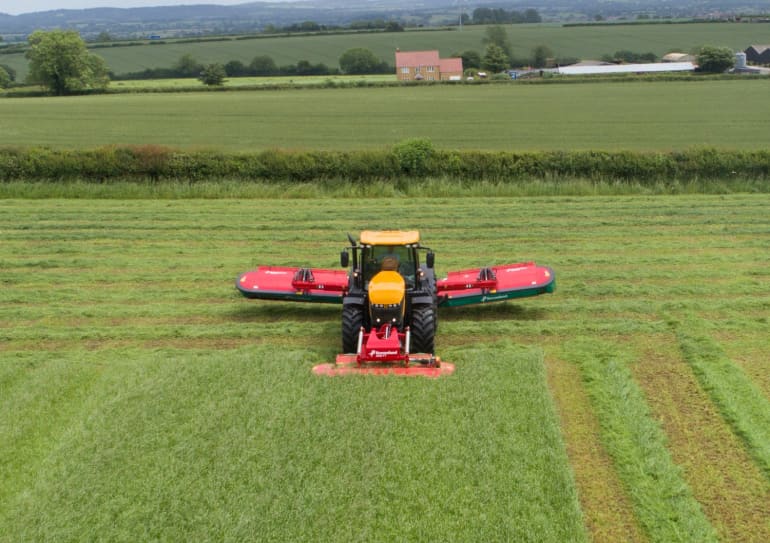 GEOMOW unlocks the full potential of the Kverneland 53100 MT Vario. The all-new Kverneland GEOMOW application delivers automatic headland lift via section control.
GEOMOW removes the risk of mistakes when lifting mowing units too early, or lowering them too late. When reaching the end of the field, the front mower is automatically raised as it hits already cut grass on headlands, rear units are lifted at the right time as well, allowing the operator to fully focus on turning as efficiently as possible.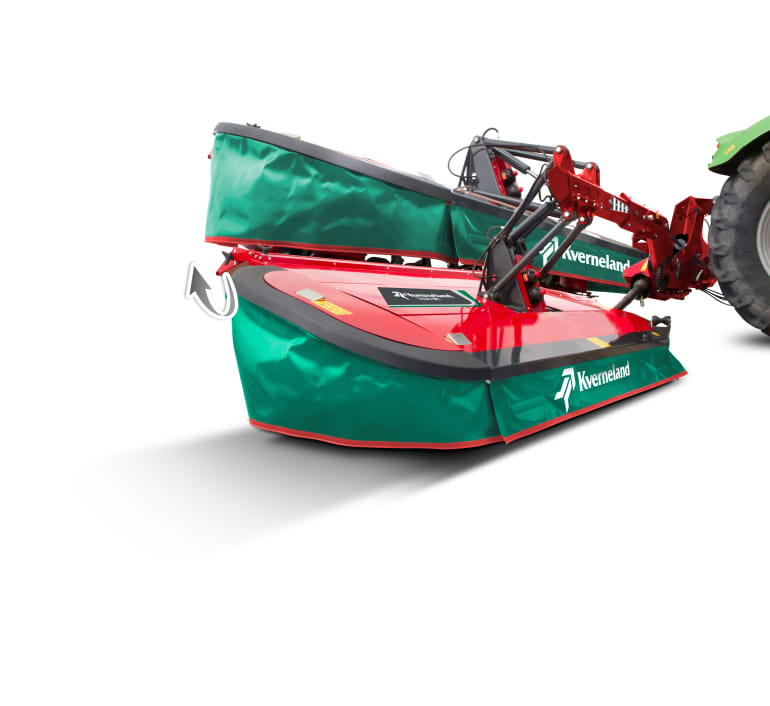 Our NonStop BreakBack system just got even better. With the new QuattroLink suspension this system now offers protection across the full working width of the mower, including the part closest to the tractor. There are no limiting factors on the inside part of the mower, giving the driver true peace of mind. When hitting an obstacle in the field, the mowing unit will instantly move backwards and up, and then return to the original position.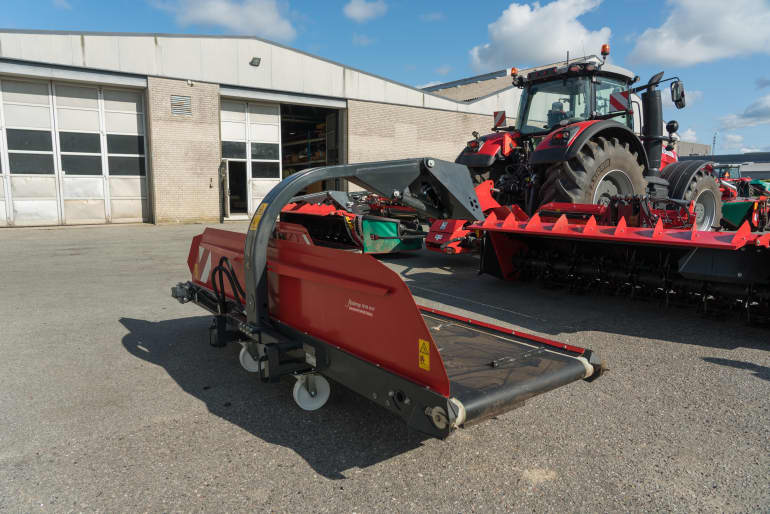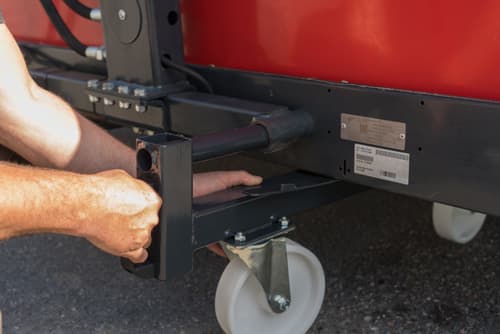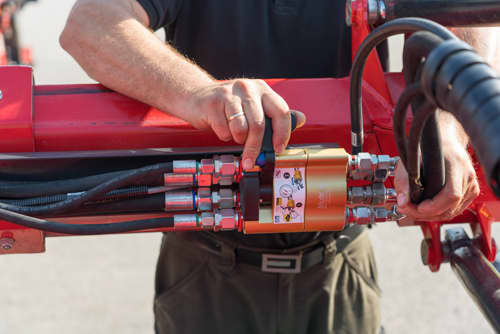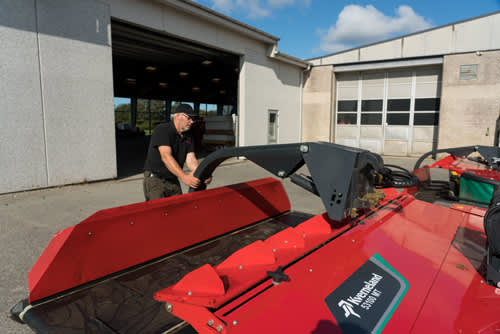 With the optional Kverneland quick-coupler solution, it is now possible to dismount the two BX belts in less than 10 minutes and park them safely on specially designed transport rollers. When disconnected, the BX belts automatically disappear from the terminal screen.
This gives you the option of deciding from day to day, when work schedule is ready, if belts are needed or not. All it takes are three simple steps – no tools required!
1. Slide the purpose-built transport rollers onto the BX-belt and remove the connection pin. 
2. Disconnect the power cable and all hydraulic connections to BX belt with one single lever.
3. Lower the mowing units and the BX belt automatically comes off.